Are you an artistic person like me? and new ideas fascinated you as much as they inspire me?  How to make a wooden mug? It is a question that must have triggered your mind if you are a beer and coffee aficionado.
So let me assure you, you landed on the right page as here you will get that answer to your question which I figured out in quite some time. But I always try things simpler for others, especially when I have suffered the problem.
I don't say that I will present you with the best solution, but I assure you that this one will not be a disaster like so many which I tried while achieving my favorite wooden mug. That is the best to have my beer, my coffee, and even is my true travel companion.
Easy Steps Towards Your Wooden Mug Making
Material Collection 
So let me make things easy and please follow me for your ultimate solution to how to make a wooden mug. So without wasting much time let's start with some easy steps and a bit of junk material. Yes, I am talking about the junk material, you don't need very expensive hardwood and don't need lots of infrastructure to make your own wooden mug.
 What you need is a bit of skill and nice determined skilled work and some DIY Spirit and there you go with your best ever artistic wooden mugs. Ok, first of all, get all the hardwood, square pieces whatever you have. After all, we are humans and we can make it out of junk as well.
If you don't have any hardwood on your own you can even go and check nearby hardware shops for some spare wood pieces. Moreover, you need some masking tape, some sandpaper if you have a belt sander it will make your work easy. You will need a saw or any good woodcutter and a good transparent adhesive or some german glue.
Procedure Of Mug Making
Once you are done with your material collection now the task begins, first of all, you need to cut almost 12 equal wood stacks in such a way that they all have equal width. Now to join them in a big circle that can cast the circumference of your good big beer or coffee mug. You need to bevel the corners of your wood stacks' upper two sides in such a way that you can join them in a circle.
Once you have all your beveled wooden pieces those are carved from both sides at 12 degrees. Now you need to arrange all the chamfers in such a way on masking tape that you can join them in your desired circumference to make your wooden mug. keep the sides of the mug joint until you find it perfectly fixed. Now you have the outer walls of your mug. Now when you have these walls you need to remove all the unwanted rough parts. you can even reduce the thickness of the walls by using a belt Sander or a hand sander.
Now when you have achieved the proper finish and the desired fine look of your wooden mark you need to add a base into it. But the base and handle part is still missing, for the base part you need to cut a circle of the same size that is the circumference of your mug. You can even draw the base first by putting the joined piece over it.
Now you need to apply glue on this circle corner as well and build up the initial structure of your mug with a nice thick base. For fixing the joints you need to wrap the mug with masking tape overnight Once you are done with the construction and base of your mug you need to add a handle to it. for adding a good nice handle you need a nice template according to which you can cut and draft and cut your mugs handle according to the size of your mug. Now your mug with a proper handle and a complete finish is ready you can remove all the masking tapes that have been handling and holding the joints overnight. You need to double-check that the handle is joined perfectly as well.
Now to perfectly seal the cavities and give the final finish to your mug you can use a good quality food-grade mineral oil and good quality Beeswax that is food grade as well. To achieve the perfect and desired finish you need to apply this mixture on your wooden mug again and again. Maybe you need to soak the mug in the mixture overnight afterward so you can wipe the extra material. By wiping it, again and again, it will make your mug shiny, beautiful and a perfect finished wooden mug that is cool and artistic to enjoy your beer or cocktail.
Another Way to

Carve Your Wooden Mug
When you want to make your mug more special and want it to be a sculpture instead of just a pitcher. You need to do some tough job but believe me this tough job is worth the pain. So let's start with the procedure and get your tough and tremendous mug ready.
Material collection
For making a completely carved mug from a single piece of wood. You need a thick log that is no less than 6 inches high and 8 inches broad. Yes, you definitely need a thick log because you are going to carve out from a single piece of wood without any joint. Free from the fear of leakage and it's not going to be easy work. You will need wood carving tools, hammer sandpapers, and a belt sander.
Procedure To Carve And Construct Your

Wooden Mug
Our previous mug which we made with the scrap pieces of wood and join them up to make our easy freezy but the cool wooden mug was an easy task. But now you are making it out of a thick log, so when you have your thick piece of wood. You need to draw a circle that will allow you to determine the circumference of your wooden mug.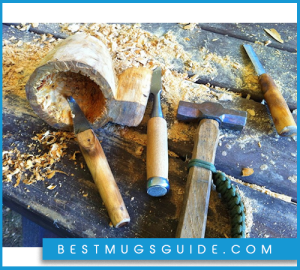 Once you have done the drafting part and you have drawn a circle on the upper part and lower part of the wood you need to carve out the extra wood and bring it into the shape of a circular cylinder, but keep in mind you need to save a

1.5-inch

thick rectangular block to carve a handle afterward.
Now you need to dig out the cylinder from inside and you will make your cavity which will be deep and wide enough to pour your beer, coffee, or whatever you like to drink your personally carved mug.
If you can't afford a very thick piece of wood you can add on its handle by joining it with the help of glue. But I suggest it's better to cut it in a single piece definitely for that you do need a Mug handle template as well. Draw the handle template on one side of the cylinder where you have already left a rectangular piece of wood that is no more than 1.5  inches thick.
Now carve and shape the wooden handle on one side as well. After you have done the carving part and you have brought it into the shape of a perfect wooden Mug. Now your mug is ready that is actually without any flaw or joint.
It's time to add finishing into this masterpiece a perfect sculptured wooden mug. Furthermore, to add the finishing, you can use your hand to sand the whole mug. Or you can even use a belt Sander that can help you to finish the mug from the outside and a good sanding tool can help you to clear the inner cavity as well.
When you have done all the finishing parts and your mug is neat and tidy and fine enough to hold the liquid inside. Now it's time to add some shine to your mug. Make a mixture of food quality mineral oil and the same quality beeswax. You need to apply a few good coats until the wood absorbs the material and adopts the shine as it was always there.
Is It Safe To Drink From

Wooden Mug
Once you have your own carved and crafted wooden mug your next question that triggers your mind must be is it safe to drink from a wooden mug? So the answer is, definitely it is 100% safe to drink from your wooden mug. Because as far as wood is considered it is an organic material and it doesn't cause any health hazard. As far as the finishes are concerned the finishes are also they too are perfectly organic. Moreover, safe to use with food so your terrific wooden mug is not only awesome in looks but also great to use due to its organic material and no health hazards.
Precautions While Using Wooden Mugs
While you are using your wooden mugs to serve drinks to yourself and your friends I suggest a few tips of using, those can save your hard work and you can use your wooden mugs for a longer period of time.
Always use your wooden mugs with care and if they are made with joining scrap wood. you need to be more vigilant as dropping and falling can cause the joints to fall apart.
If you use the dishwasher to wash your cups and mugs after your party time keep in mind that they are a bit special in their kind. So you need to wash them with hands as they are not just mugs but art pisces and do need extra care.
If they are made out of a single log of wood they might get a bit heavy so keep in mind while handling them.
While applying finishes be care full never use any toxic material as a sealant or shiner
Never leave the liquid in the mug for a long period of time as wood can absorb it and can ruin your mug.
While joining the pieces apply the glue with precision so that no cavity remains untouched.
While casting the handle do keep in mind you need to design your handle in such a way that it proves you have an easy and strong grip.
While sanding make sure that your mug is completely smooth and don't have any rough strands as any rough strand can cause you severe inconvenience.
Conclusion
In my final words, I would just like to conclude by warning you about the only hazard of your wooden mug making.
And that is about taking proper precautionary measures while using the tools that are going to help you with your mug carving activity. Moreover while using the finishes keep in mind that you should always avoid any health hazardous material. Because more than beauty you need to worry about your health safety.
Best of luck with your innovation, have fun, and enjoy your Wooden mug making!