YETI Rambler 14 oz Stainless Steel Vacuum Insulated Mug
There are three features that differentiate the best camping coffee mugs from the riffraff. They include excellent insulation, versatile usability, and extreme spill-resistance. The Yeti Rambler ticks all these boxes with aplomb to become our top pick for coffee enthusiasts.
Few things in life are as satisfying as sitting around a campfire while drinking your favorite coffee and chatting about the day's activities.
Whether you're preparing yourself to go to sleep after one last cuppa or planning for the day ahead, coffee unlocks the door to peak enjoyment.
That's not the only reason why you need the best camping coffee mug in your backpack.
Unlike your favorite water bottle – which some people also use for drinking cocoa, these mugs don't need to be super fancy, last for years to come and are ideal for all sorts of beverages.
Also, thanks to their heat-insulated walls and spill-resistant lids, the 
best coffee mugs
 are a must-have for winter camping enthusiasts.
Throw into the mix their 'ability' to not interfere with your beverage's taste and keep any spillage at bay, and these units can help enhance your whole camping experience.
Pros
Stainless steel body
Lid with magnetic tab
Double-wall vacuum insulation
Product Description
There are three features that differentiate the best camping coffee mugs from the riffraff. They include excellent insulation, versatile usability, and extreme spill-resistance. The Yeti Rambler ticks all these boxes with aplomb to become our top pick for coffee enthusiasts.
Features
How can we be sure that this mug would keep your coffee warm? Because we have seen the merits of its stainless steel body. Aided by the double-wall vacuum insulation, it minimizes the heat transfer between your surroundings and the coffee, thereby keeping its inner liquid hot for hours.
Its color coating doesn't restrict itself to improving the aesthetic appeal of this mug. You have to hold it to know that it also increases the mug's grip. Though its main purpose is to resist any scratches and hide any signs of wear even when the cup is taking a beating during your journeys.
We were equally impressed with the lid of this mug. Its magnetic mechanism means that you can open and snap shut it with minimum fuss. At the same time, the lid holds securely when shut and would, therefore, prevent the liquid from trickling out even when the mug is placed upside down.
Once you're back home, you won't need to manually wash this cup as all of its parts are dishwasher-safe. Equally impressive is its no-sweat design which won't result in frostbit fingers even when it's frigid in the outdoors. Little wonder, then, that it's one of the best coffee mugs for winter camping
Pros
Eye-catching design
Hide scratches well
Sturdy and ultra-durable
Product Description
Contrary to popular belief, not all coffee mugs have to be big and chunky to keep your brew at its optimal temperature. Some of them, like the Asobu Happy Trails, offer a perfect balance of lightweight construction and brilliant wall insulation to keep their contents warm.
Features
A close inspection of this coffee mug will reveal that it has adopted a rustic design, a choice that won't let it look out of place in the outdoors. What the design would also do, albeit a bit more secretly, is perfectly hide the scratches and beatings which the mug might have accumulated along the way.
Those of you who are pro-choice might find it good to know that this mug won't force you to live with its all-black design. Provided you find it boring, there are three more colors to select from, excluding another black model which has a slightly-bent handle and star-laden design.
Having taken care of your choice, this mug also ensures your comfort. It can claim to do that thanks to its vacuum-insulated walls which, belying its lightweight construction, would minimize the airflow into and out of the mug. That means that your favorite beverage will stay at its temperature for hours.
Does that mean that you can safely put it over the fire? Its enamel construction won't withstand such exposure to high temperatures. Despite this minor shortcoming, its portability and sturdy construction make it the best lightweight coffee camping mug for the outdoor enthusiasts.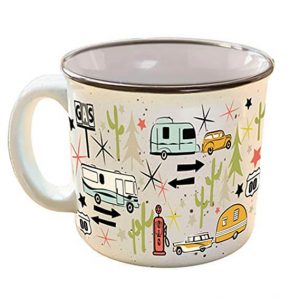 Pros
FDA-approved
Microwave safe
Competitive asking price
Cons
Might be too bulky for some
Product Description
Don't think coffee cups could get any bigger than the one you saw above? Then you're in for a surprise with the Cam Casual CC-004W Mug. This 15oz. model is an absolute unit and, unless you drink like a fish, would keep your throat wet throughout a long journey.
Features
Apart from its extra-large capacity, another feature of this mug which we found interesting was its wanderlust design. The presence of multiple outdoor signals on its walls won't let you forget for a second that this model is made for the outdoors.
What is more, these signs do not improve the looks of this mug only to decrease its heat-resistance. You can be sure of this because it is both dishwasher as well as microwave safe. Hence the reason why we recommend it to campers who are going to deal with either extreme of temperature.
Similar to the other best camping tin coffee mugs on the market, it is approved by the FDA. You can use it for as long as you want and there still won't be any danger of its material chipping away and playing havoc with your health by mixing with the beverage.
One feature of this model that differentiates itself from other mugs in this review is its multiple designs. Adults might have plenty to like with its wanderlust pattern, but it might not attract kids, who want something brighter – which is exactly what its bird's eye view design provides.
Pros
Dishwasher-safe construction
Ultra-durable and sturdy
Come with a lid
Cons
Big and chunky size might not be attractive for some
Product Description
Do you have a voracious appetite for coffee which forces you to have one refill after the other? Provided you can find a coffee-lover which shares the same hunger for cocoa, you can fill enough coffee inside these jumbo-sized coffee mugs to minimize your trips to the kitchen.
Features
Compare the size of these mugs to their 'ordinary' counterparts, and you'd come to realize what we meant when we termed these units 'jumbo-sized'. While your average coffee mugs can hold 8oz of brew, each of the two has a 14oz fill capacity to ensure that you never run out of coffee.
Apart from keeping your tongues wet, these mugs would also keep your clothes dry. They come with a spill-resistant lid which, once snapped shut, would only take a storm to leak the inner beverage. Even then the spill would be so minor that it would only leave a minor stain on your shirt.
The main reason why these units can take more than a few severe beatings is their shatterproof and indestructible design. As long as you don't try to deliberate cut them with a razor-sharp object, their high-grade 304 stainless steel body could handle most thrashings.
To further sweeten the deal and indicate the trust it has in this product's sturdiness, its manufacturer offers a lifetime warranty on these mugs. What's more, if you don't like their appearance at first glance – the chances of which are pretty slim, you can return them and get a 100% refund.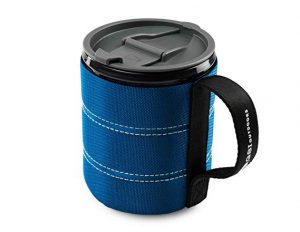 Pros
Collapsible design
Made of recyclable polypropylene
Boasts a non-slip footing
Product Description
From its looks to its features and all the way down to its price tag, there isn't much about the GSI Outdoors Infinity Backpacker Mug that could put away its potential users. If anything, this model is one of those whose multiple qualities force you to purchase them even when you already have a product serving the exact same purpose in your bag.
Features
Let's start with its appearance. This mug would look as brilliant in the middle of your office table as it would on the sidelines of a campfire. Its polypropylene material of construction, as well as the four-thread circles dotting its circumference, would see to that.
Next comes the features. Most other mugs you see on the market go for plastic koozie to keep their asking price low. The GSI Outdoors, however, uses tough ballistic nylon for insulation, which proves as adept at keeping its inner heat inside as it is at attracting the lusty glances of fellow coffee drinkers.
Equally useful is its added convenience. You get a collapsible tarpaulin handle for all those times when your hands are too sweaty to get an adequate grip. Also on offer is a slip-it lid which minimizes spills, whereas its fully collapsible design would see to it that this mug occupies little space in your backpack.