Shifting and moving around is a tough and expensive chore to perform. huh, I have gone through this so many times, as my job keeps me flying from one state to another. And you know whats the most tricky part which shakes my heart? Yes like all of you, my kitchenware is something I don't wanna get hurt in the movement.
So what should I do, always seek professional help and shake my budget?  Or just learn the art to perfection. 
Yes, I do choose the second option and now after every travel, I am a happy person unpacking my mugs and wine glasses safe and unscratched. After all their breakage causes me a heartbreak!
And guess what in this two minute read you can get all, the essence of my 10 years research, spendings on professional help to save the fragile and the cost which I bore out of wrong experiments.
So let's discover the perfect material and perfect methods that can save your mugs and wine glasses from breaking and your heart from shaking.
Arrange The Required Material
The very first step toward the safe travel of your sturdy-looking delicate Coffee Mugs is gathering the required materials. That will assist you in packing and organizing the fragile kitchenware towards the safe destination.
You will need
1. A Packing Box
Definitely you can't pack your fragile items until you get a perfect packing box. Make sure that your box is made of any such material that can bear some shock or impact. A corrugated sheet is a right construction that can make a perfect packing back as the cavity created in the walls can bear any unwanted shock and stress.
2.appropriate Partition
Another important thing which you need to check with your packing box is its proper partition. as if the box doesn't have proper segregation your mugs can smash with each other and cause damage. So add the partition to keep things in place either you are packing your mugs or your delicate and fragile wine glasses.
3. Add Strength
We all know that the hollow cavities in the mugs and wine glasses make them prone to breakage and damage. And the edges are especially sensitive areas, prone to chipping. what you can do to save those sensitive parts. You have two options either you can pack mugs with bubble wrap sheet or without bubble wrap sheet.
a. How to pack Mugs With Bubble wrap sheet?
If you want to go for the option of packing with bubble wrap, with minimum material you can grab maximum security. As the bubbles of the sheet have air-filled hemispheres those not only protect your fragile item by bearing the impact but also provide a cushion that increases its shock resistance.So placing the mugs on that vacuumed sheet is a good protective gear that you can provide to your beloved barware while sending them by mail or shifting them anywhere.
b.How to pack Mugs without bubble Wrap?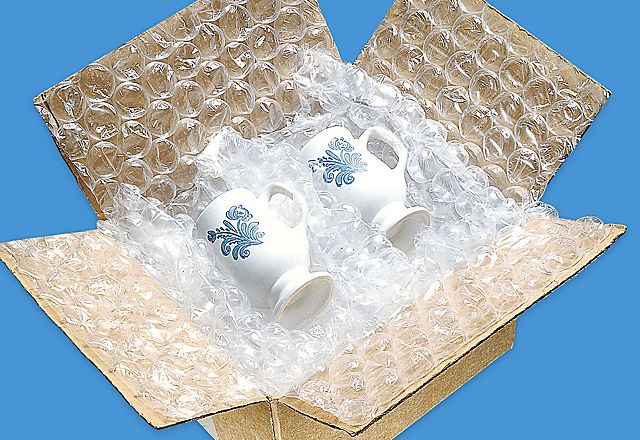 When you have no bubble sheet and still wants a perfect coverage for your fragile items.         you need to arrange a perfect alternative. What it can be it can be anything that can create that safe vacuum which can add resistance against shock. 
It can be a crumpled newspaper or a packing sheet or you can put a few packing peanuts or any of these to add impact bearing and softly fill up the cavity.
Cover and Fill
You need to cover and fill your mugs with newspaper stuffing or packing sheets that the cavity is no more vacant and no more unsafe.
Moreover while wrapping and covering your mug take special care and a notice of the handle of a mug and stem of a wine glass. Both of these areas are very much delicate and can get damaged even with a slight shock.
Tips to cover and pack
While covering a mug make sure that all the edges are tugged carefully leaving no unwrapped or uncovered area that can clash and collapse.

Handle of a mug and stem in wine glass both are most delicate areas double-check while covering.

Don't forget to pack the articles with a similar size in one box to get more safety and less unsafe vacuum.

Don't forget to place the bubble wrap sheet beneath and upon the mug to add shock resistance.

Adding a few packing peanuts is a good idea. 

But stuffing the box tightly is certainly not a great idea as extra pressure can cause undue breakage.
Packing Tape 
After doing all the hard work now you need to secure the packing box. For that, you need a nice packing tape that sticks immediately and perfectly keeping al your safety measures within the box in full protection.
A Permanent marker
Another important thing which you might don't consider that important is a permanent market that actually acts as an official seal to your packing. you must mention the product name and fragile on it with a permanent marker. This measure may sound less important to you, but believe me, this one is actually the most important one. As this will alarm anybody around while he or she is going to handle it hard. 
Moreover, when you are going to unpack you can take these articles apart and arrange them on priority at maximum ease and minimum risk.
Note: don't forget to properly clean the mugs and glasses before sending them into packing as when you will unpack them you will be in new surroundings where it's better to put them safely instead of going to wash them before even using.
FAQs
How to Pack wine bottles for moving?
Moving wine bottles is no less technical than barware, as the filled liquid if broken can spill all around. you are not only deprived of your favorite wine but also at the risk of spoiling others this as well. 
More or less the steps and ingredients will be the same you need to 

Cover it with the packing sheet

You need to be more careful while covering the tip or pouring area or you can cover it twice to add strength

Arrange  a corrugated sheet box with desired partitions

Now  put the bubble sheet beneath to absorb the extra stress

Add some extra packing peanuts 

Fill all the cavities that the wine bottles sta in place and if they are more then one don't crash with each other

At the end fix it with packing tape and don't forget to mention fragile on the box 
Note: don't mention the wine inside may cause someone to party in the way and you are deprived of it anyways.
Why To Pack Wine Glasses Upside Down?
While packing the wine glasses you should always keep them on the facing side down as the delicate stems of these beautiful glasses may add style and elegance to your trendy wine glass but have actually low strength and are prone to breaking more than any other part yes you are right even the edges. So after covering properly and securing the edges its always a better idea to put them with the head side down for more safety. And a safe arrival.
Final Word
In this article, my maximum effort was to guide you with all the aspects and possible ways to pack your fragile mugs and wine glasses. Moreover, assure them of a safe departure and a safe landing. But still if you you love your mugs the most a professional help can save you allot by saving your precious items. So if you can afford professional help its always a better option to avail.
But fr DIY enthusiasts this article will be of great support and guidance.
Have a safe and happy travel.